Questions? Call Hannah at 323-315-0963 or email trc@cachurch.com
Why is being connected important?

Being connected in community is an important part of spiritual growth. The Christian community is a place to find mutual support and encouragement. It is a place to use your gifts to benefit others, to find belonging, to be known and to be significant in someone's life. 

No one is meant to live life and grow alone. Counseling is an important part of living life wisely. If you find yourself in need of Christian counseling for any variety of life issues, we'd love to help you along the way.

---
What does the Relationship Center offer?
What classes does the Relationship Center offer?
The Relationship Center offers classes each quarter to promote healthy relationships in all aspects of life. Class topics include: pre-married and newly married issues, parenting, overcoming anger, how to deal with grief and loss, and how to develop healthy relationships. In addition to classes there are teaching seminars and special events offered throughout the year. A brief description of each of the courses offered by The Relationship Center follows. Watch the web site and church bulletin for announcements of upcoming class offerings.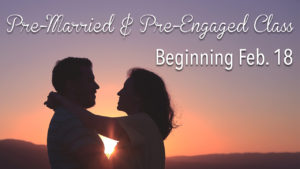 Pre-Engaged/Pre-Married Class (Spring 2018)
6-Week Course
Sundays|February 11 – March 18
1:00-2:30pm
Room 30|2435 Colorado Blvd
$40/couple
 This class is for any couple who is dating and considering marriage, engaged or newly married. The topics include spiritual oneness, communication, conflict resolution, finances, family relationships, and sex in marriage. Includes the Life Innovations Prepare Assessment, a comprehensive relationship evaluation tool. Register HERE.
Please read our blog on relationships:  Updated every weekend — Dave & Nan's Blog