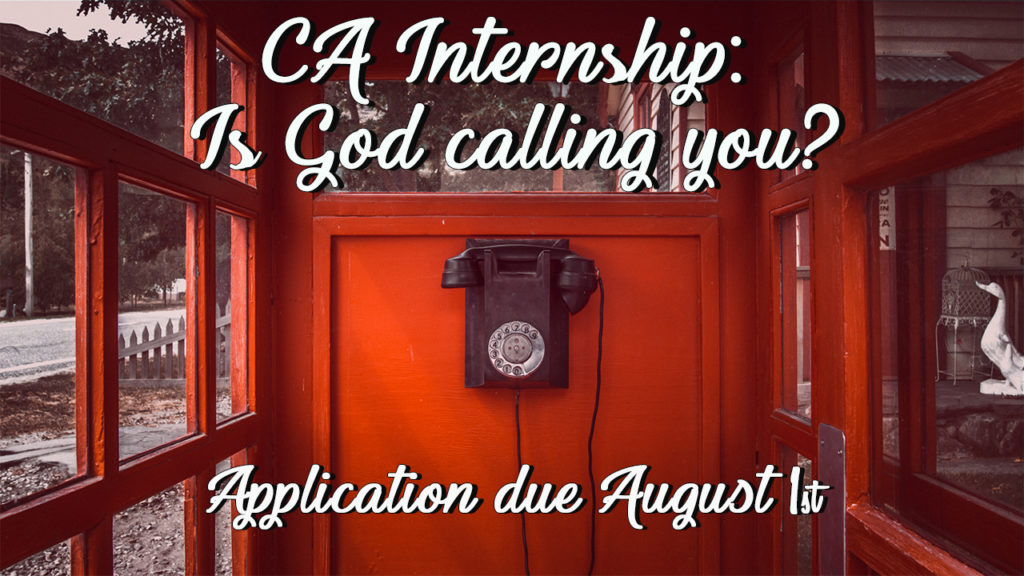 Christian Assembly Internship Program
September 2017-May 2018
Our volunteer internship program is designed to help you gain experience in local church ministry and discover if God is calling you to vocational ministry. You will be on a team of staff in a ministry department with first hand mentor-ship by a pastor. With 10 hours a week you can gain leadership experience while finding out what happens behind the scenes – planning, leading, learning and discerning. Has God been calling you? Is it time for you to step out and give it a try? Do you want to gain field-ed/apprenticeship credit in a dynamic local church context?
Let's talk about it…
If you would like to ask questions or meet with a pastor concerning this opportunity, please contact Wendy Spishak at wendys@cachurch.com.
Apply Here…
Download an Internship Application. Fill it out. Email it to Wendy at wendys@cachurch.com. Your application will be reviewed and you will be contacted by a pastor on our staff. We cannot guarantee that all applicants will be accepted.
Basic Requirements for All Applicants…
• You believe Jesus to be your Lord and Savior and receive the gospel by faith
• You agree with Christian Assembly's Statement of Faith.
• You agree to our CA Staff Covenant.
• You can commit 10 volunteer (unpaid) hours to ministry in your assigned department.
• You plan to be part of Christian Assembly for the duration of the internship program. September 2017-May 2018
Applications Due By August 1st
About Christian Assembly – We are a local church of 2500+ in attendance in 6 weekend services. We have a legacy in Los Angeles that began 108 years ago and we continue to witness God transforming lives and equipping us to make a difference in our city and world. We focus on the gospel and we are compelled by God's grace to lead spiritually convinced and unconvinced people to complete commitment to Jesus Christ.