Christian Assembly is located in the Eagle Rock neighborhood which is in between Pasadena and Glendale, near the 134 and 2 freeway. The main intersection of our campus is Colorado Blvd. and Ellenwood Dr. You can find our main address and directions from your location below:
2424 Colorado Boulevard, Los Angeles, CA 90041

PARKING
We have on-campus parking lots but spots are suggested for our visitors and families with young children. We also have reserved parking at the Eagle Rock Plaza (Target/Macy's) at the corner of Colorado Blvd. and Sierra Villa Dr. Our church is a couple of blocks away so there is short walk east to the campus. We also have reserved a parking lot at the Eagle Rock Seventh-Day Adventist Church a couple blocks Southeast of the church. You can also park in the newest lot on the corner of College View & Colorado Blvd. Each of these lots are available for all our service times. Finally, there is parking on the streets surrounding the church, however, we ask you to be considerate to our neighbors and do not block any driveways.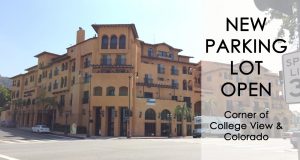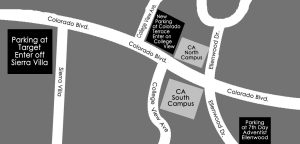 CAMPUS MAP
Click here for the campus map.